Cher's 1986 Oscar's Dress Was Motivated by Revenge: 'It's a Crazy Getup For Attention'
Is there anyone as legendary as Cher? She's offered up glitz, glamour, and straight talk for decades now — all while serving us lewks, honey! There's the iconic cheek-bearing lingerie and leather jacket ensemble she wore in the music video for "If I Could Turn Back Time," the coral reef of illuminated spiky bits atop her head in the "Believe" video, and of course, all of her dramatic red carpet looks. 
Cher has delivered many daring sartorial choices. But few are still discussed with as much fervor as the dress and headpiece she donned at the 1986 Oscars.
Cher's midriff-baring Bob Mackie look at the 1986 Academy Awards turned heads
There's a reason Cher's look still creates so much chatter. This outfit was absolutely stop-you-in-your-tracks stunning … or, hideous, depending on who you asked. People were divided on their opinions of the look, but there was no question that it made a statement.
Of course, Cher knew what she was doing. She recognized that people would have things to say about the size of her headpiece or the amount of torso that she showed, but that was all part of the point. Cher isn't the kind of person to wear an outfit that no one is going to talk about.
Bob Mackie was inspired by showgirls and wanted to capture attention with Cher's look
As Vanity Fair reports, plenty of critics were quick to tell Mackie that the look he created for Cher was "not fashion." But Mackie dismissed these jabs, saying, "'Of course, it's not fashion. It's a crazy getup for attention!'"
A good designer listens to their client and delivers what they want. Given how often Cher collaborated with Mackie, there's no question that he could see her vision, including when it meant making a giant feathered headpiece.
Cher wanted the Academy to notice her "revenge dress"
The look matched Cher's usual aesthetic, but she didn't choose it simply because she liked it. Rather, she saw it as a sort of "revenge" look intended to make the Academy notice her. BuzzFeed notes that Cher was openly mad because her film that year, Mask, hadn't earned her a Best Actress nomination.
According to Mackie, he and Cher "met about the design at her then-boyfriend Tom Cruise's New York apartment" where Cher reportedly told him "I don't want to look like a housewife in an evening gown" and asked him to design something the Academy would have to notice.
Of course, Cher was famously nominated for her work in Moonstruck the following year, so perhaps the dress really did manage to tip some scales in the Academy's minds.
Cher's isn't the only much-discussed red carpet choice from awards seasons past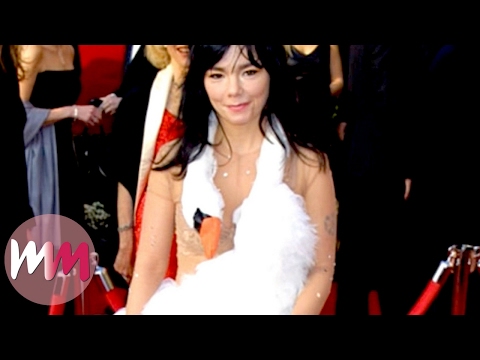 Of course, other awards show looks are famous because of the amount of criticism they've received, such as Celine Dion's backward jacket and sparkly RayBans look, Lady Gaga's perplexing but fascinating dress made of raw meat, or Bjork's infamous swan dress that she claimed was "about fertility."
Critics love to discuss which looks they consider over-the-top, gaudy, and worthy of "worst dressed" lists the day after. However, for some stars, the appeal of standing out is greater than the desire to blend in with a series of on-trend gowns.
Each year there are plenty of lovely gowns at the Oscars, but there is a reason we are still talking about Cher's iconic 1986 dress (and in Zendaya's case, offering up gorgeous looks inspired by it) 35 years later.
Source: Read Full Article