A psychological thriller to fray the nerves of anxious parents
Motherhood, at least in genre films, is a scary way of being. Either the mother is herself consumed with fear for her child, a potent subject for suspense, or she is crazy, furious or vengeful and likely to be carrying a kitchen knife, a stock figure of horror. In Andrew Semans' Resurrection, Rebecca Hall is both, vowing to "do anything" to protect her children. The sight of this fine classical actor growling "I am a good mother!" while wielding said knife is not easily forgotten.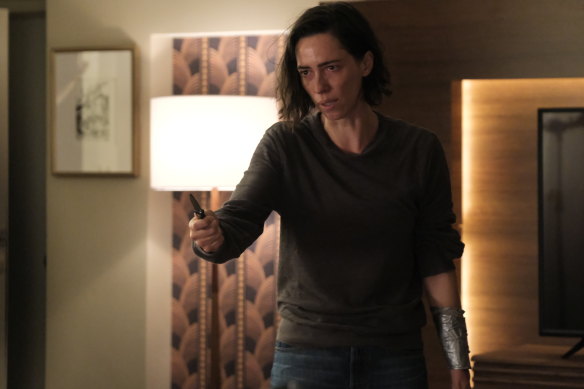 Margaret (Rebecca Hall) in a scene from Resurrection that is not easily forgotten.
When Resurrection screened at Sundance London, the Utah festival's touring selection of American independents, Semans – who both wrote and directed – was six weeks away from becoming a father for the first time. He and his partner had already agreed that they would be anxious parents. He also saw in himself a less appealing desire to be so good a parent he could be smug about it.
"I don't know if I'm looking forward to it exactly," he said. "But I'm anticipating that sense of profound self-sacrifice, almost erasure of my ego on behalf of this child – and, knowing myself, a sort of pride in how much I'm willing to sacrifice."
He thinks he gets that from his mother. "She was my initial inspiration for the character in Resurrection, although she was nothing like my mother in the end. My mother was raised Catholic and, even though she is no longer religious and hasn't been for a long time, there are elements of a very Catholic tendency towards masochism or martyrdom that will bubble up in her. Those were the elements that were relevant here."
Hall plays Margaret – which is Semans' mother's name – who has a sufficiently high-powered job in the biotech industry to have a corner office. She is authoritative, controlled and wears regulation executive dress without a single personal flourish. At work, she mentors a young intern with stern warnings against a boyfriend whose careless disregard she describes as "sadism". At home, she hovers like a wasp over her daughter Abbie, who is about to leave for college.
Writer and director of Resurrection, Andrew Semans.
The film plays with the familiar, gnawing anxiety of the parent whose nest is about to become empty, but Margaret's current fears run deeper and are far stranger than that.
A man, played by Tim Roth at his most vulpine, is stalking her. She knows who he is: David. When she was Abbie's age, she had a relationship with David in which she became submissive, holding stress poses for hours at his command or being tortured. Then they had a baby. Something unspeakable – literally unspeakable, in that she cannot tell anyone – happened to the baby before she ran away. Now, two decades later, she is still so terrified by this man that she vomits when she sees him. Even so, she feels herself being drawn back into his darkness.
Semans did formal research into abusive dominance, but he had experience of it closer to home.
"As I was writing the script, a friend of mine became involved in a very unhealthy relationship with a very toxic individual. I was witnessing that, trying to understand what she was going through, the psychology behind this relationship and how this incredible bond was formed in this truly terrible circumstance as much as I could in an effort to help her and because I found what I was witnessing to be extremely frightening," he says.
"What I was learning certainly did inform the script. Do I understand it? Of course I don't and to presume I do would be extremely arrogant, but … I know certainly more about it than I did at one time and I am extremely sympathetic. It is a heightened, kind of exaggerated version of one of these relationships, but what I was trying to do was maintain all the behavioural and psychological components and then filter them through a kind of genre lens."
It is that genre lens that is able to accommodate the culmination of the film in the supernatural, which has frustrated some critics who feel Semans has broken faith with the story's psychological realism. He says he couldn't go any other way. "Other ideas just weren't as cinematic or interesting," he says.
Mostly, however, he felt he owed it to Margaret to give her the happy ending she wanted.
"What we are seeing is her perfection. Her heaven," he says. "There is another way to interpret what is an intentionally ambiguous ending, which is that what we're seeing is not necessarily trustworthy and the story is far more tragic than what is depicted on screen. I tend to favour a tragic interpretation. But, given her personality, given her tendency towards martyrdom and sacrifice, given her psychology, she needs to suffer to feel like she's earned this perfect ending, so she gets everything she wants. I couldn't end it any other way."
Resurrection will be released digitally in Australia on November 30
A cultural guide to going out and loving your city. Sign up to our Culture Fix newsletter here.
Most Viewed in Culture
From our partners
Source: Read Full Article