Could, and should, the Premier be called by IBAC?
The man leading the corruption probe into Victorian Labor on Tuesday gave his clearest indication yet that the five-week investigation may examine matters directly related to Premier Daniel Andrews.
But the merits of hauling high-profile figures before the commission will probably be a matter of debate both inside the Independent Broad-based Anti-corruption Commission and among the public, who would rightly hope IBAC grillings are reserved for serious misconduct in public office.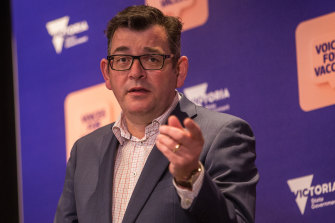 Premier Daniel Andrews at a COVID press conference on Sunday.Credit:Scott McNaughton
Andrews easily shrugged off questions on Tuesday morning when pressed on his alleged involvement in what has been described as the "wild west" of branch stacking in Melbourne's south-east in the late 1990s and early 2000s.
"Mate, I haven't been to a factional meeting … for 11 years," he said, adding he has never broken party rules.
"I'll be 50 next year. There's some stuff yesterday about way back in 1999 and 1996 and 1997 when I was 24 years old.
"All of us like to think of ourselves as very important when we're 24 and 25, but we rarely are … So, you know, my faction, your faction, their faction, all this sort of stuff; I've got a job to do."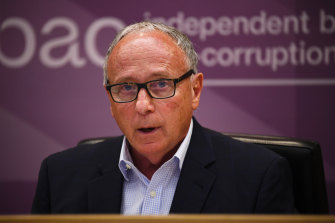 IBAC Commissioner Robert Redlich.
Hours later, IBAC Commissioner Robert Redlich went out of his way to confirm the relevance of events from the time of the Premier's role as a factional operative before entering Parliament in 2002.
Federal MP Anthony Byrne, when questioned about the late '90s, echoed Andrews and questioned the importance of historical allegations, then Redlich stepped into the proceedings.
While the probe was primarily focused on corruption allegations from the past five years, Redlich said evidence pointed to a rotten cultural practice "endemic" for more than 20 years. To understand the new world, Redlich said the commission could explore historical events that may "explain" today's party culture.
Redlich's intervention opens the door to the possibility the Premier may be called to give evidence.
The years leading up to the 1999 preselection for the outer south-eastern seat of Holt, won by Byrne, is known in Labor circles as the period when the most rampant branch stacking of ethnic members occurred. There were no party rules to prevent the practice and up to 300 members were signed up in batches, paid for in cash handed to head office by party operatives.
Three party sources involved at the time confirmed Andrews was a key lieutenant of left-wing factional head Alan Griffin, who fought the south-east turf war against Byrne and Stephen Conroy, whose party grouping benefited most from Adem Somyurek's downfall. Andrews was promoted to party head office and eventually won the coveted south-eastern seat of Mulgrave.
In another portent of the inquiry's scope, counsel assisting asked repeated questions on Tuesday about the activities of the Socialist Left faction aligned with the Premier, indicating the probe may extend wider than the Somyurek machine.
IBAC is motivated by defending the public interest. However, it is necessarily a political actor in this saga and will be wary of going beyond its remit, particularly in light of criticism of supposed excesses in NSW's Independent Commission Against Corruption following Gladys Berejiklian's resignation.
The Victorian agency is required to have suspicion of "serious" corrupt conduct to launch an investigation. This guards against frivolous inquiries that drag officials through the mud for no good reason.
The recruitment activities of Labor operatives in the 1990s may have set in motion decades of militant factionalism, but rules against branch stacking didn't exist until the early 2000s.
Even after rules were created, it's questionable if breaking party rules constitutes corruption and whether IBAC's role is to police party rules in public hearings that cause reputation damage for witnesses. Using taxpayer cash to fund branch stacking would be a different matter altogether.
Luke Donnellan quit cabinet on Monday after evidence emerged showing he broke party rules, but there was no suggestion he broke laws. It bears repeating, Victorian laws do not prohibit staffers performing factional work, which is a key focus of the inquiry.
The Premier and other officials involved in the period in question may provide the inquiry with helpful context about the era in which he, Somyurek and Byrne cut their teeth. But in considering whether to put the Premier in the witness box, Redlich will be asking himself: is there any hint of corruption?
The Morning Edition newsletter is our guide to the day's most important and interesting stories, analysis and insights. Sign up here.
Most Viewed in Politics
From our partners
Source: Read Full Article