Economic stress splinters community cohesion, fuels migration concerns
Save articles for later
Add articles to your saved list and come back to them any time.
Social and economic pressures are driving Australians apart and fuelling concerns about migration in the wake of the pandemic, with 33 per cent of people worried the migrant intake is too high.
Household stress has taken community cohesion to its lowest level in more than a decade and fuelled a sense of gloom about the years ahead, according to new research that shows 41 per cent of people are pessimistic about Australia's future – up from 24 per cent three years ago.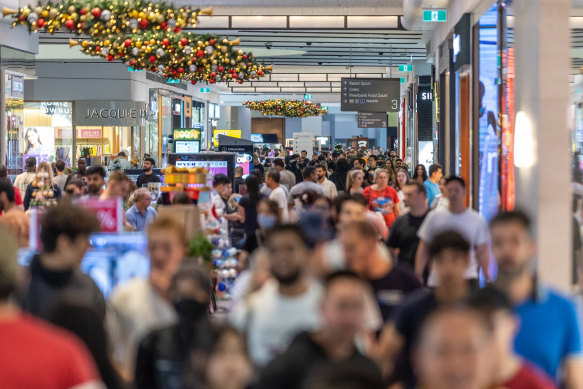 The Scanlon Foundation report on community attitudes found 33 per cent of people worried the migrant intake is too high.Credit: Jason South
Young adults are the least trusting and positive in the community, with 47 per cent of people aged 25 to 34 saying they are pessimistic about the future compared to 35 per cent of those aged 65 and over.
The Scanlon Foundation report on community attitudes, funded by the not-for-profit foundation and led by Australian National University lecturer James O'Donnell, concludes that social cohesion is at its lowest level since the annual studies began in 2007.
"Social cohesion is under pressure – it's been declining and we're a little bit more divided as a country," O'Donnell said.
"There are bigger fissures between conservative and progressive voters and their attitudes. And the economy has been this big, overriding issue that's weighing down cohesion among people across society, in terms of their belonging, their trust, their worries for the future, and their connections with Australian society generally."
The new report, Mapping Social Cohesion 2023, is based on surveys conducted with 7500 people in July this year and is being released on Wednesday. Its release comes after the latest Resolve Political Monitor found heightened concerns among voters about the cost of living and their household incomes.
The research tracks factors such as a sense of belonging, economic inequality and fairness to produce an index of social cohesion that has fallen to 79 points this year, down by 13 points since 2020.
When Australians were asked about the number of migrants coming to the country, the number of people who said the intake was too high rose to 33 per cent this year, reversing years of stronger support for the intake when the pandemic halted or slowed migration.
Previous studies found that in July 2020, 38 per cent said the intake was too high. This fell to 31 per cent in 2021 and 24 per cent in 2022.
O'Donnell said overall support for the migration program remained relatively strong, however, with 51 per cent saying the intake was "about right" and most wanting a program that did not decide the intake by race.
When the report looked at the views of those who believed migration was too high, it found that 87 per cent of this subset agreed that people born overseas were just as likely to be good citizens as people born in Australia, 75 per cent agreed that multiculturalism had been good for the country and 69 per cent did not agree with rejecting migrants because of their religion, race or ethnicity.
Prejudice remains a problem, however, according to findings that show 91 per cent of Australians have a positive view of people from the United Kingdom but this falls to 69 per cent for people from India, 61 per cent for people from China and 51 per cent for people from Sudan.
Those findings were matched by the perceptions of racism among people from various ethnic backgrounds, with 41 per cent of Chinese Australians saying they had experienced racism in the last year and 50 per cent of Indian Australians saying the same.
When researchers asked people about their attitudes towards people of faith, they found that 27 per cent of people had a negative personal attitude towards Muslims, 13 per cent were negative towards Sikhs, 11 per cent were negative towards Hindus, 9 per cent were negative toward Jews, 16 per cent were negative toward Christians and 4 per cent were negative toward Buddhists.
"This is a sort of constant pressure on migrants that is weighing down their sense of belonging and their sense of connection in Australia," O'Donnell said.
Trust is declining across the community, however, from the high levels seen in the early stages of the pandemic when the community showed a sense of unity in response to COVID-19.
Economic hardship is a key factor in the changes, O'Donnell said, when the increase in the cost of living was leading to a fall in the "sense of worth" among many Australians.
Cut through the noise of federal politics with news, views and expert analysis. Subscribers can sign up to our weekly Inside Politics newsletter.
Most Viewed in Politics
From our partners
Source: Read Full Article