From COVID to a torn calf: Play about Shakespeare's 'dark lady' plagued by misfortune
A long career in theatre is an education in luck but, even in two decades of directing, Petra Kalive has never seen something like this.
On any given day this week she had little to no idea just who she would be directing on stage when the Melbourne run of the West End hit Emilia reopened.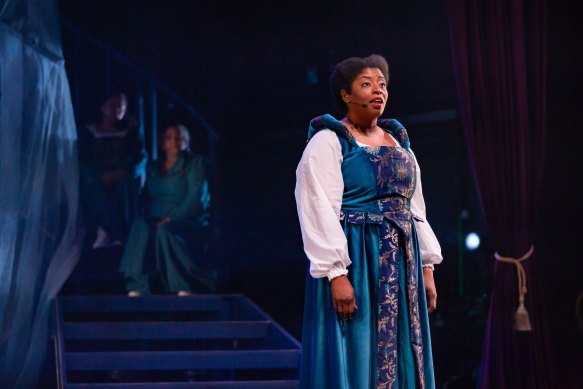 The opening week of Emilia has been plagued by difficulty. Credit:Dylan Hornsby
A week ago, the feisty dramedy about the life of 16th century London poet, Emilia Lanier – thought to be the "dark lady" whom, literary legend has it, was plagiarised by her lover William Shakespeare – got off to a COVID-marked start.
With one of the all-female cast sidelined in Melbourne's fourth wave of the virus, talented 27-year-old Izabella Yena was called in as "cover" at three days notice for opening night.
So far, so good.
Though cover players do not participate in the weeks-long rehearsal phase, Yena sailed through her opening ensemble scenes, even pulling off a silly dance. About 40 minutes in, however, things took a turn. Heidi Arena, playing the Bard, limped off stage in character, saying "there's something wrong with my shin".
House lights went up, and the curious audience shifted in their seats. Arena was whisked to the Alfred with a torn calf and Yena was given 20 minutes notice to cobble together a costume, grab a script and go back on as a lead.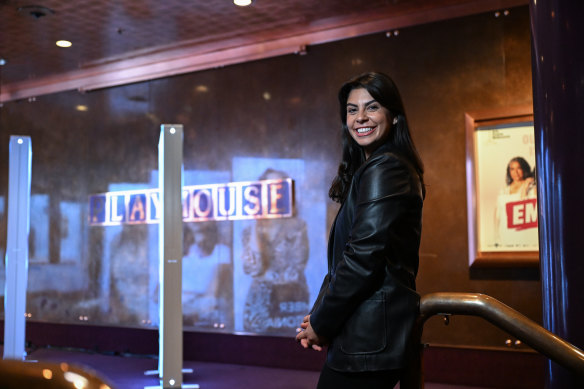 Actor Izabella Yena who ended up 'covering' two different roles on the opening night of Emilia.Credit:Joe Armao
"Everybody was in shock," said Yena, of Arena's mid-scene injury. "It all happened so quickly I didn't really have a chance to get nervous or overthink it," she said, though she confesses that as she went on her body was shaking.
"We were trying to get the wig and moustache but, in the chaos of it all when I was walking on stage and they passed me the moustache, I was like, 'I just don't think it's going to stick'."
I've been directing 20 years and never seen that before.
Such is Yena's skill that, even looking like herself and dressed in puffy velvet pants, she pulled off the challenging and unexpected role with just an occasional glimpse at "the book".
Kalive praised the actor's admirable flexibility, especially being able to drop one character and bolt on without a hiccup as the next.
"I've been directing 20 years and never seen that before – we just kind of went into problem-solving mode," she said.
"It was a galvanising moment for the whole team, we kind of went, 'well that's happened, let's go on, let's do this'. Not many actors who haven't had four weeks of rehearsal could imbue that confidence in an audience."
Despite a standing ovation from a typically supportive Melbourne house, with Arena still in recovery and several other cast members subsequently dropping to COVID, the show then went dark for several days.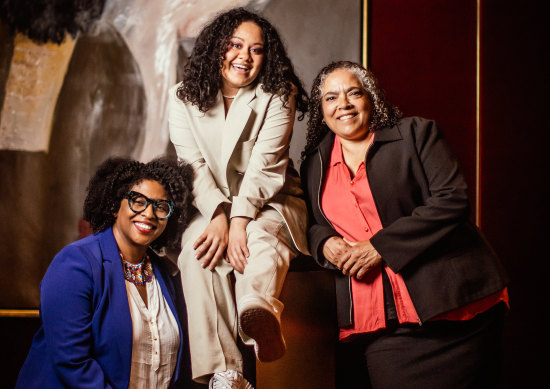 Three actresses play the 16th century poet Emilia Lanier, at different life-stages: From left, Cessalee Stovall, Manali Datar and Lisa Maza.Credit:Scott McNaughton
When Kalive spoke to The Age on Tuesday, she said Yena was due to play Shakespeare when Emilia re-opened in the Playhouse. The director expected the return, on Thursday night, to be packed.
Until, once again, capricious luck intervened.
On Thursday morning, with six of the cast unwell, a publicist said the show would indeed go on… but on Friday night, and with no fewer than six stand-in actors. That included a new Shakespeare, as sadly Yena had also become unwell.
But by Thursday afternoon, there was some good news for audiences keen to see the triple Olivier Award-winning show. It was announced Arena would be stage-fit by Friday night, as would all the play's original leads.
Melanie Smith, Arts Centre Melbourne's executive director of performing arts, said it was "hugely admirable that the shows can go on" despite the difficulties.
"It's part of the beauty and the risk of live performance."
Emilia is on at the Playhouse, Arts Centre, until November 27.
A cultural guide to going out and loving your city. Sign up to our Culture Fix newsletter here.
Most Viewed in Culture
From our partners
Source: Read Full Article