Goodbye to Hamilton, hello to the next blockbuster musical to hit Sydney
Twenty years after Baz Luhrmann's Moulin Rouge! first hit the screens the stage version of the iconic film is coming "home" to Sydney.
Moulin Rouge! The Musical will open at the Capitol Theatre on May 28 with tickets going on sale mid-December.
The 10-time Tony-winning show has toured around the world and is currently playing in London's West End, on Broadway and at Melbourne's Regent Theatre.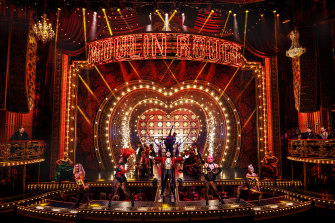 Producer Carmen Pavlovic says Moulin Rouge! The Musical! is lavish, bold and deeply romantic.Credit:Michelle Grace Hunder
The show's producer and chief executive of Global Creatures, Carmen Pavlovic, said negotiating the pandemic lockdown had been a nail-biting process.
"We had to do some pretty difficult soul searching back in late 2020, where we really had to decide whether we held on to the Australian slot that we had booked," she said. "It was nerve-racking because we're still in shutdown and we still weren't able to audition.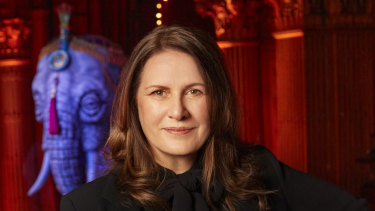 Producer Carmen Pavlovic.Credit:
"But we thought we had to honour the show and the values of the show, and take a risk and push on through and make it happen.
"It feels really great that the story is picking up after this very long worldwide intermission."
With producers around the world clamouring for the right to develop a stage version of Moulin Rouge! Pavlovic sealed the deal in 2009 ahead of everyone else thanks to a convivial lunch at Baz Luhrmann and partner Catherine Martin's luxury Darlinghurst home, Iona.
"I approached Baz probably like everybody else in the world. And I'm sure my inquiry went on file, along with many others," Pavlovic said. "But then I had lunch with Baz and CM. We had such a great time and had very kind of similar aspirations. So at the end of that lunch, they rather wonderfully decided they weren't going to meet with other producers and would actually close in on a deal with my business partner Jerry Ryan and I."
It turned out, however, that getting the rights from Luhrmann would prove to be the easiest part of the equation. Securing the rights to 75 songs, credited to 165 songwriters and administered by 31 publishers would become a legal and logistical nightmare that took years to untangle.
"Mostly we got the songs we wanted but in some instances we didn't," said Pavolvic. "Then some people didn't say yes straightaway, and it took a lot to convince them. I think Moulin Rouge! is probably the most complicated, rights package for technical production on stage."
The story behind both the stage show and the film revolves around a love affair between a young writer and a cabaret actress, Satine. And as with so many operas and musicals, the affair ultimately ends in tragedy.
"It's really in the grand tradition of beautiful old-style Hollywood movie musicals but sort of contemporary at the same time," Pavlovic said. "It [the movie] had such a definitive and unique style to it that it really took people by surprise. It's just so lavish and so bold, and deeply romantic."
But in adapting the film for the stage, Pavlovic said she wanted to give audiences already familiar with the movie, something extra.
"There was an aspiration in creating a stage show to genuinely try and surprise audiences."
TV, movies, Find out the next TV, streaming series and movies to add to your must-sees. Get The Watchlist delivered every Thursday.
Most Viewed in Culture
From our partners
Source: Read Full Article