I was never a Cat Person – until I met Maggie
We're celebrating a very special birthday in our family this month. Our lovely old cat, Maggie, is turning 19. Even if you're not a Cat Person, you have to admit that's a very impressive innings. Especially when you think about who you were 19 years ago. About how much we change over the years, physically and emotionally; I think the only parts of me that are the same are my teeth. And yet that cat is still here.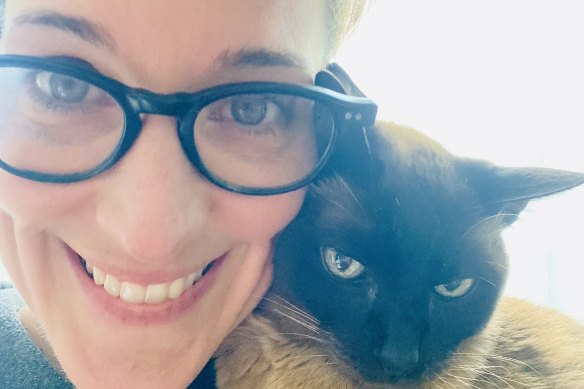 "Maggie has been the observer of it all. The keeper of our lives," writes Jo Stanley.
Nineteen years ago, I was 31. And while I didn't know it at the time, that year was the last of the carefree years. The before times. Before the mortgage, the kid and managing stressful careers. Before my husband and I got to the seriousness of living.
Into this simple life of work and holidays and parties came Maggie and her brother, Kenny. I remember them: tiny sweet fluff balls, one in each palm, timid and curious all at once. And I remember the person I was – just as unformed.
For starters, I thought I wasn't a Cat Person. Not that I'd ever really known a cat, but I came from a family of Not Cat People, so I didn't question it. I thought cats were as charmless as a coughed-up hair ball. Or a half-eaten mouse. Or your brand-new carpet torn to shreds. Or standing on cat spew in bare feet. Or a disdainful glare that makes you imagine they're plotting your death. I mean, there's a lot not to like about cats.
It was thanks to my Cat Person husband that suddenly I had two kittens in my life. And thanks to Maggie and Kenny, I learnt that I could be something I didn't expect to be. It was one of the first times I had tuned out from other people's opinions, and within about 45 seconds of meeting those cats I was, shamelessly, a Cat Person.
In fact, I was obsessed. Kenny was long and sleek and elegant. He didn't walk, he sauntered. It's weird to say, I know, but that cat was charismatic. Like if Idris Elba was feline.
In the long nights when I can't sleep, when anxiety has my heart racing in the dark, there she is.
And Maggie, who has outlived Kenny by seven years now, is chubby and soft and gentle, having never bared a claw in her life, even when my daughter was a toddler and her cuddles bordered on strangulation. Maggie, cheeky and chatty; I'd smoosh my face into her tummy and we'd talk to each other. (Although she's now deaf, so her chatter has become an ear-splitting howl, as though she's being squeezed like an accordion. It's great at two in the morning.)
Maggie is the constant in my life. As I've lived through those 19 years, and the days that have been the making of me, she's been there. Her warm, velvety body pressed into me (she sleeps in my arms every night), her unblinking gaze watching over me. She's witnessed the dancing-in-the-kitchen and laughing-on-the-phone moments. The boring in-between moments and the wailing-into-the-mattress moments.
And in the long nights when I can't sleep, when anxiety has my heart racing in the dark, there she is. The thickness of her fur, the sound of her purr, the gentle weight of her – all of it grounding me and bringing me back to this present moment. Our hearts beating together, co-regulating, calming me. Literally mindfulness in my arms. What will I do without her?
These 19 years that hold the shaping of me. The birthing, parenting, working and creating. The hope, and loss, and back to hope again. The railing and failing and all of the feelings. Maggie has been the observer of it all. The keeper of our lives.
This is the magic of a family pet. Only they see us in our most private moments. We are free to be, without judgment or shame, and we are not alone. Our pets are there, meeting our highs and very dark lows, holding the space for us where emotions can flow.
What a very great gift it is to be an animal's special person. To love them, and have their love in return. To have them as a warm place to land at the end of a day, or a reason to rally as the sun comes up. And to carry their story in our own folklore.
As Maggie floats through her twilight years, her life has happily shrunk to a smaller version of itself. She's content with 2½ rooms and a sunny balcony. I'm consciously thankful for every minute we share. I'll be forever changed by her. Happily, a Cat Person. Gratefully, Maggie's Cat Person.
Make the most of your health, relationships, fitness and nutrition with our Live Well newsletter. Get it in your inbox every Monday.
Most Viewed in Lifestyle
From our partners
Source: Read Full Article