It's sold 12 million copies. Now The Tattooist of Auschwitz is coming to TV
The Tattooist of Auschwitz, the bestselling novel by New Zealand-born, Melbourne-based writer Heather Morris is being turned into a six-part TV series for Stan.
The co-production with Britain's Sky and America's Peacock is currently shooting in Europe, with a cast headed by Englishman Jonah Hauer King and Polish actress Anna Prochniak as Lale and Gita, Slovakian Jews who meet and fall in love in Auschwitz, before settling in Australia after the war.
The Tattooist of Auschwitz cast members (l-r): Jonah Hauer King, Anna Prochniak and Melanie Lynskey.Credit:Stan
New Zealand actress Melanie Lynskey, who burst to fame as a teenager opposite Kate Winslet in Peter Jackson's Heavenly Creatures and will soon be seen in the second season of Yellowjackets, plays the author. Israeli filmmaker Tali Shalom Ezer is directing.
Morris, a former social worker, wrote the book after being introduced to Holocaust survivor Lale Sokolov in 2003 as someone who "had a story that might be worth telling". (The author serves as story consultant to the series.)
The memoir-novel has sold 12 million copies worldwide.
UK production company Synchronicity bought the screen rights in 2018 before the book – which has reportedly sold 12 million copies worldwide and been translated into more than 40 languages – had even been published. Soon after, Jacquelin Perske, the award-winning co-creator of Love My Way and writer of the TV series The Cry, was tapped to adapt it for the screen.
But the bestseller has also attracted its share of criticism, accused of factual errors and perpetuating Holocaust clichés. Perske says she is already bracing for the backlash that will inevitably greet her version of the story.
"I think over the past four or five years, the world has changed quite a lot, the notion of telling stories like this has changed," she says. "But I don't really want to get into debates about that stuff at this present time. I'd rather see the show made, see it out there, and then let's see what happens with the debates, which will be huge."
She's not inviting or hoping for that. She's simply aware that for some people the Holocaust is not fit for drama at all, as liberties will inevitably be taken, and the grim truth of it all diminished for the sake of story.
Perske's response has been to put the relationship between author and subject at the centre of her version.
"It's about memory and history, and the relationship between Heather Morris and Old Lale, as we call him, is a big part of the story," she says.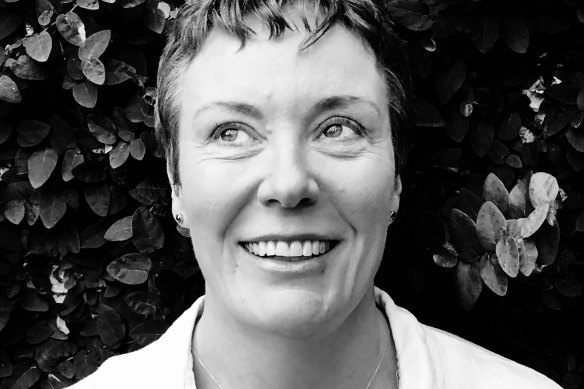 Screenwriter Jacquelin Perske expects debate, but hopes criticisms over inaccuracies can be avoided.
By addressing the fallibility of memory directly, she hopes the series will neutralise some of the attacks that were directed at the novel.
"Our job as storytellers is to make sure it's correct as much as possible," she says. "And if we're making it into an inaccuracy, then we can talk about it. Sometimes we replay a scene in a different way. 'Maybe I got this wrong; I'm an old man'. We play with that a little bit."
But, she adds, the production has made a real effort to ensure authenticity.
"This has been an incredibly rigorous process with two researchers and a script editor, in conjunction with the historians and researchers at the Auschwitz Museum," Perkse says. "We have a Dropbox that is bursting with articles, there are firsthand accounts, but often they're conflicting … they have been written 10, 15, 20, 30, 40 years afterwards, then there's all the Shoah interviews, the face-to-face interviews with survivors.
"It's a huge amount of material to absorb, collate, and we make sure that we cross our Ts and dot our Is in terms of that historical accuracy, absolutely."
Stan is owned by Nine, which also owns this masthead.
Find more of the author's work here. Email him at [email protected], or follow him on Facebook at karlquinnjournalist and on Twitter @karlkwin.
Find out the next TV, streaming series and movies to add to your must-sees. Get The Watchlist delivered every Thursday.
Most Viewed in Culture
From our partners
Source: Read Full Article