Prince Harry's book smashes Australian sales records
Prince Harry's memoir Spare sold more than 64,000 print copies in its first week in Australian bookshops, blitzing the previous record for the genre by nearly 45,000.
Nielsen BookScan, which surveys book retailers around the country, reported print sales of 64,150 in the seven days after Spare's January 11 publication. Nielsen said the previous best-selling autobiography was by television commentator and former NRL player Darren Lockyer, which sold a mere 18,866 copies in its first week when it went on sale in 2011.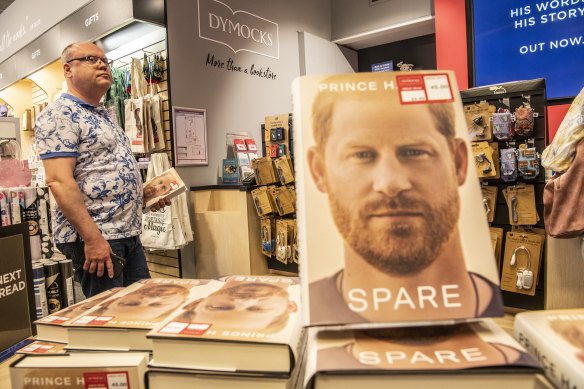 Prince Harry's memoir Spare on sale in Dymocks' George Street, Sydney shop.Credit:Steven Siewert
The much-anticipated Prince Harry memoir, published in 16 languages, has smashed records around the world. It sold 467,183 copies in Britain in its first week, making it the fastest-selling non-fiction title of all time there. On publication day alone, it reportedly sold more than 400,000 in hardback, e-book and audio formats.
A further one million units were sold on its first day in the US and Canadian markets, where it had an initial print run of two million books. Penguin Random House reported it was the highest first-day sales of any non-fiction title it had published in the North American market, greater than the previous record holder, Barack Obama's A Promised Land, which sold nearly 900,000 copies in November 2020.
Prince Harry received a reported $US20 million ($29 million) advance for a four-book deal. For PRH to break even, and then move into the black on the deal, Hollywood Reporter books editor Andy Lewis claimed the publisher had to sell 1.3 million print copies and 400,000 e-books globally. Clearly that figure was exceeded within 24 hours.
Spare may have missed out on becoming the fastest selling non-fiction print title in Australia, falling behind the 74,602 copies sold in its first week by Scott Pape's 2018 book, The Barefoot Investor for Families, but PRH reported total sales in all formats – print, ebook and audio – were 120,000.
Dymocks managing director Mark Newman said he knew Spare would be a big seller. "But timing of the launch and pre-launch publicity made it difficult to know how big."
He said the book's success reflected the robustness of the market. "Sales of books in Australia have been growing for the last couple of years, and we are seeing that trend continue, particularly sales of printed books and books bought in bricks and mortar bookshops."
Mark Rubbo, managing director of the Melbourne chain Readings, said he had expected to sell more copies of the book in its first week. His seven shops had cut the $59.99 cover price by $10, but conceded it was difficult to compete with the likes of Big W, which was selling Spare for $35.
However, he said sales were gaining momentum and he didn't expect the book to be a flash in the pan.
"Reviews that are now being published have helped," Rubbo said. "They add the book more credibility than all the celebrity gossip."
The Booklist is a weekly newsletter for book lovers from books editor Jason Steger. Get it delivered every Friday.
Most Viewed in Culture
From our partners
Source: Read Full Article