Quiet please: Opera Australia serves up Tosca in an unexpected venue
Save articles for later
Add articles to your saved list and come back to them any time.
Opera Australia has announced its 2024 season will include a production of Tosca performed in Melbourne's Margaret Court Arena. It will mark not only the company's first arena show, but the first time the venue has hosted an opera.
So, is this pairing going to be a love match? Opera Australia's new artistic director, Jo Davies, feels it is.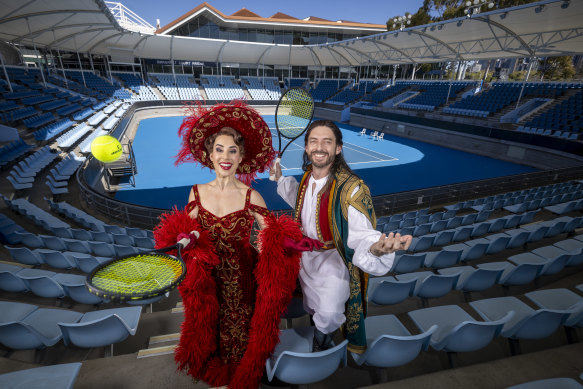 Opera singers Kathryn Williams and Anthony Mackey at Melbourne Park.Credit: Wayne Taylor
"I think Tosca is one of the best operas you can go to if it's your first time at the opera, but I think it's one of the best operas you can go to – if the storytelling is good – if you've seen it 100 times, because the opera itself is almost perfect in its structure," she says.
Tosca is a dramatic story of love, politics and bargaining, named for the opera singer at the heart of the tale. This will be the Australian premiere of the Edward Dick version, with the cast a blend of local and international performers including baritone Warwick Fyfe, tenor Young Woo Kim, tenor Diego Torre and soprano Karah Son, who played Cio-Cio-San in the 2023 production of Madama Butterfly on Sydney Harbour.
"It's a brilliant combination of old and new," says Davies. "It's got really contemporary social and sexual politics within it. It gives Tosca a lot of agency – but then it's also got this kind of renaissance grandeur and glamour to it."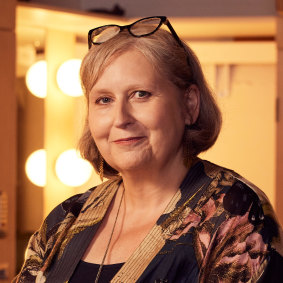 Opera Australia artistic director Jo DaviesCredit: Daniel Boud
She is confident the company will adapt to the different space, building on its experience staging opera on the harbour and on Cockatoo Island. "We will spend a lot of time working out not only just vocally and musically how the balance works within that space, but also what you have to do in order to really allow the psychological detail of the production to resonate in a space like that," she says.
It is "how we get the audience to really feel not just the epic nature of everything, but the intimacy as well, which is the real challenge".
Tosca was selected because 2024 will bring the 100th anniversary of composer Giacomo Puccini's death. Margaret Court Arena was chosen as part of a move to find new venues amid the State Theatre's upcoming closure for renovations.
Opera Australia isn't the only performing arts company forced to think creatively about its programming – the Australian Ballet's recently announced program will have the company performing in the Regent Theatre for the first time, with a newly commissioned work designed with the specific space in mind.
"We've been trying to investigate different spaces that we can inhabit to still deliver full-scale, big-budget productions to Melbourne, which I think is really important for the company," Davies says. "Part of the challenge with the State Theatre being closed is that we have to look for other venues and other spaces. But for me, that really feels [like a] creative opportunity, because you can start to really look at where opera sits in a city – and it doesn't always have to be within an opera house or within a theatre."
Karah Son and Diego Torre (pictured during costume rehearsals for Madama Butterfly) will appear in the Opera Australia production of Tosca at Margaret Court Arena.Credit: Louise Kennerley
Even before the State Theatre's closure, Opera Australia faced criticism for an imbalance in programming between Melbourne and Sydney, with no staged operas having been performed by the company in Melbourne since La Traviata in May 2022.
Davies points to collaborations and new venues as a way to bring more productions to Melbourne, something the company has already begun work on: in July, Opera Australia will collaborate with Victorian Opera on Mozart's Idomeneo.
While the full program for 2024 is a few weeks away from release, when asked how things will look for Melbourne after several years of scaled-back programs, Davies says: "It's going to look better."
This marks Davies' first program with the company, though she formally starts her role as artistic director at the end of November. In addition to turning her attention to performing more staged operas in Melbourne, she is also keen to focus on increasing gender equity in opera and to make space for more new work. This means supporting existing creators and new ones, with plans for a possible opera lab under way in Melbourne.
By embracing new venues and new strategies, Davies hopes to open up opera to a wider audience. "Opera is just the most incredible art form if you can connect to it," she says. "I think there's always this perception that opera is elitist, and so the moment that you can put it into a space that doesn't feel that it's got the same elitism attached, maybe people are more comfortable to join us. That's certainly my hope. "
Tosca will be on at Margaret Court Arena from May 24 – 30, 2024.
The Booklist is a weekly newsletter for book lovers from books editor Jason Steger. Get it every Friday.
Most Viewed in Culture
From our partners
Source: Read Full Article