Shepparton locals struggle to get groceries as coronavirus crisis deepens
For our free coronavirus pandemic coverage, learn more here.
People in Shepparton are struggling to buy groceries and receive online deliveries of essential supplies, as the deepening coronavirus crisis forces at least a third of the regional city into 14-day isolation and sidelines a significant chunk of the working population.
The Shepparton cluster grew to 66 positive cases on Wednesday, with 50 of them based in the city, and the exposure sites climbed to almost 90 by the afternoon.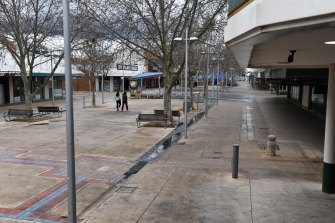 Shepparton's Maude Mall is virtually deserted as locals stay home. Credit:Joe Armao
Some supermarkets have shut down due to being exposure sites or losing staff to quarantine, while others have been forced to cut opening hours and scale back delivery and click-and-collect options – pushing some people in quarantine to the brink.
Locals have been struggling to source groceries, baby formula, nappies and medicine, as residents not in isolation say places to buy essential supplies are hard to find.
Independent Shepparton MP Suzanna Sheed said: "The situation in Shepparton is a crisis and the mood is very anxious."
"For a town that would normally pull together we simply don't have the resources now. So we need the army, we need people driving trucks and distributing all the goods through the town. We need the army in our supermarket to be doing the unloading of trucks, the packing of parcels for home delivery and the delivery of the groceries."
About 40 Australian Defence Force personnel have been deployed to Shepparton, but will mainly assist police with door-knocking residents in quarantine.
Shepparton locals have banded together, under the Greater Shepparton Lighthouse Project to create the GV Cares Network, with fully vaccinated healthy people driving around the city of about 70,000 people to deliver essential items.
The project's executive officer, Lisa McKenzie, said since setting up the GV Cares Network on Friday in response to the emerging COVID-19 cluster, the group had been inundated with requests for support.
She said many people had lost their support network because everyone they knew was forced into quarantine, and the latest outbreak hit Shepparton especially hard.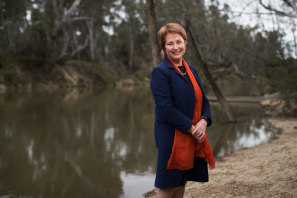 Suzanna Sheed, independent MP for Shepparton, is pleading with the Victorian government for more support. Credit:Jason South
Almost all of Shepparton's schools have been identified as tier-one sites, with scores of supermarkets also listed as exposure sites and shut down for deep cleaning. Ms Sheed and Ms McKenzie both said at least a third of the city's residents were isolating.
A senior reporter at the Shepparton News, the town's only daily local newspaper, pleaded for help, and revealed one pharmacy had five staff in quarantine with demand for urgent deliveries of medication soaring.
"I hope the government understands we're a really proud community, and everyone is doing a great job pulling together, but it's feeling pretty thin and stretched," Ms McKenzie said.
"People are very anxious. We need to all work together to create a safety net here sooner rather than later."
Ms Sheed has written to the Victorian government calling for more staff at Goulburn Valley Health where more than 250 staff have been furloughed, more testing sites to keep up with demand, at least 100 army personnel from Thursday to help supermarkets facing a "crisis of staff shortages", increased resources for the coronavirus hotline, and a bolstered campaign pushing for locals to get vaccinated.
She said the town needed a "Shepparton response" and more information from health bureaucrats, describing the current communication efforts as leading to the town feeling isolated.
"In a sense we're all vulnerable because of the level of shutdown and the fact that so many shops and services are no longer able to operate properly," Ms Sheed said.
"Especially for the people in isolation – they have kids at home who want to graze from the fridge and pantry all day, they're going crazy at home. So the need for just that basic capacity to bring in food and other supplies and distribute it becomes even more important when people are in hard quarantine."
Health Minister Martin Foley on Wednesday afternoon said the government was working through all the issues affecting Shepparton, including healthcare and food distribution.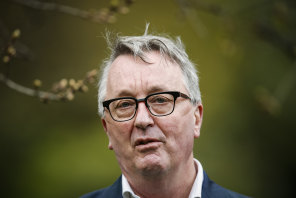 Health Minister Martin Foley on Wednesday said the government was working through the issues affecting Shepparton.Credit:Getty
"It's a challenge, but it's a challenge I know that the people of Shepparton, and the people of Victoria, are up to," Mr Foley said.
Attention has also shifted to reaching out to Shepparton's large Indigenous and multicultural communities, according to Greater Shepparton City Council mayor Kim O'Keeffe.
She said the regional city would struggle to cope with a third of its residents in isolation, and getting food and medical supplies to people was a high priority.
"We have gone from last Friday morning's announcement where there was one case to now having almost 20,000 people in isolation," Cr O'Keeffe said.
"We are doing what we need to do … a lot of the community has been reaching out to each other, people who have received double doses of the vaccine are offering to do contactless delivery. It's been incredible as far as community response goes."
A Coles spokeswoman said the supermarket was working hard to increase capacity, but had to cut back on services due to the COVID-19 outbreak.
"We have unfortunately had to cancel a number of home delivery and click-and-collect orders that we have been unable to fulfil," she said. "We understand this has caused some frustration, and we appreciate our customers' patience during this time."
A Woolworths spokesman said the supermarket chain faced significant staff shortages, and was forced to cancel or reschedule some orders.
"We're continuing to prioritise deliveries to vulnerable community members, including those in mandatory self-isolation, through our priority assistance service," the spokesman said.
"Delivery and pick up windows remain open to the broader community, but are not available on the usual same or next day lead times due to the higher than usual demand."
The GV Cares Network is accepting donations.
Stay across the most crucial developments related to the pandemic with the Coronavirus Update. Sign up for the weekly newsletter.
Most Viewed in Politics
From our partners
Source: Read Full Article