State, federal governments at loggerheads over fix for winter gas shortfalls
A rift has opened between the eastern states over fresh warnings of winter gas shortfalls, with opinions split over the need for reservation schemes or new gas fields, while the Albanese government approaches a critical decision on imposing unprecedented export controls on gas producers.
The Australian Energy Market Operator (AEMO) has warned gas demand in Victoria – by far the country's biggest consumer of residential gas – could outstrip supplies as soon as this winter if cold weather drives up heating usage at the same time as a slump in output from wind farms or breakdowns at coal-fired power stations.
The energy market operator is warning that gas supply could run short as gas fields in Bass Strait are rapidly drying up.Credit:Rob Homer
As gas fields in Bass Strait, which have traditionally supplied the bulk of east-coast gas demand, are rapidly drying up, AEMO said there would be a risk of shortfalls across the nation's south-east on days of peak winter demand until 2026.
By 2027, states including Victoria, NSW and South Australia would face yearly gas supply deficits unless new gas supplies were made available, it said.
However, the Andrews government on Thursday rejected the suggestion that more gas supply was needed to prevent shortages, and instead argued a domestic gas-reservation policy should be set up to stop Queensland's liquefied natural gas (LNG) companies shipping too much supply offshore.
"There should be no shortage of gas in Australia as we export over 70 per cent of what we produce," a government spokesperson said. "This is not a supply issue, this is companies putting profit before people."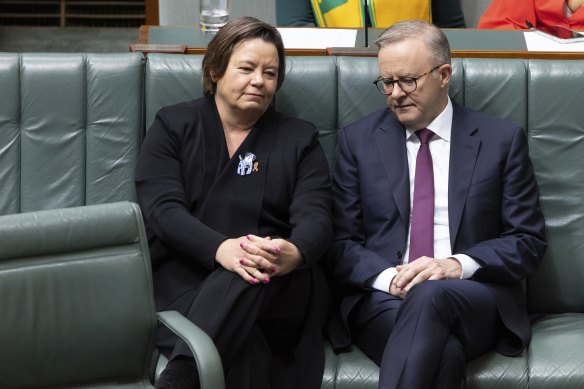 Resources Minister Madeleine King with Prime Minister Anthony Albanese.Credit:Alex Ellinghausen
Setting up a potential clash between Victoria and the Albanese government, federal Resources Minister Madeleine King declared she wants NSW and Victoria to develop their own gas supplies.
"We have been very upfront about wanting to work with state and territory governments about securing gas supply," King said. "There may be work the Commonwealth and Victorian governments can do together to unlock additional supply."
Federal Climate Change and Energy Minister Chris Bowen on Thursday also said more gas was needed to support the transition to renewable energy – to power fast-start gas plants to supply ready energy to the grid when the sun isn't shining and the wind isn't blowing.
"It would be irresponsible to rule out new gas when we have this important transition under way and gas is an important and vital underpinning because it's so flexible," Bowen said.
Victoria's approach is also at odds with NSW. While both states have set themselves ambitious goals to boost renewable energy, NSW is aiming to develop a new project with gas producer Santos, a move backed by King.
"NSW is supporting the development of the Narrabri gas project, which will be used domestically to provide gas for households and businesses," NSW Treasurer and Energy Minister Matt Kean said.
Meanwhile, Queensland has fired a warning at the federal government against further controls on LNG companies, which produce gas in the state's inland gas fields and ship it from Gladstone.
Queensland Resources Minister Scott Stewart said his state provided the vast bulk of gas used across the eastern seaboard and demanded NSW and Victoria develop new gas projects to plug the shortfall, instead of relying on producers based in his state for more supply.
"It is incumbent on NSW and Victoria to develop their own gas industry," Stewart said.
"We have gas ready to develop in the Galilee and Bowen Basins and the federal government, along with Victoria and NSW, should consider building a pipeline to unlock those reserves."
AEMO's shortfall warning increases pressure on the federal government to consider a move to restrict exports from the Queensland LNG ventures involving Origin Energy, Shell and Santos.
The government will make a call by July 1 to initiate the first stage of the so-called gas trigger, or Australian Domestic Gas Security Mechanism (ADGSM), which has never been enacted before.
While there are several steps before export controls are imposed, the process could culminate in LNG exporters being forced to redirect exports for local buyers only in time for this winter.
Credit Suisse analyst Saul Kavonic said the AEMO report could spark support for a policy to encourage greater investment in gas supply. On the other hand, it could also be used as "further ammunition" to trigger the ADGSM or provide AEMO greater powers to intervene in the market.
Conservation groups insist projection of shortfalls later this decade leaves ample time for governments to develop a strategy focused on reducing gas demand, such as switching appliances from gas to electric and prohibiting new residential gas connections, rather than lifting supply.
"The good news is that the projected gas shortfalls are slated to hit in 2027 – so we still have time to address them – but the Victorian government needs to take action now," Environment Victoria's Rai Miralles said.
The Victorian and federal governments are investing in a range of initiatives to cut household gas use, encouraging people to switch from gas-fired heaters and stoves. AEMO said increased power usage by household appliances was forecast to double the demand for gas to generate electricity by 2042.
The Australian Petroleum Production and Exploration Association said the AEMO report confirmed the only way to plug the gas supply gap was with more gas supply projects.
"We need a clear strategy from governments to promote new supply to avoid shortfalls and put downward pressure on prices rather than ad hoc interventions that do the opposite and undermine investment confidence," association chief executive Samantha McCulloch said.
Federal opposition resources spokeswoman Susan McDonald said if the Albanese government imposed export controls it would be a sign its energy policy had failed.
"If Labor want to break international contracts to fix their mess, it will be clear that they have failed; the energy security of our international allies will be at risk," McDonald said.
Cut through the noise of federal politics with news, views and expert analysis from Jacqueline Maley. Subscribers can sign up to our weekly Inside Politics newsletter here.
Most Viewed in Politics
From our partners
Source: Read Full Article