The fast and the curious: matching Maseratis and a Liberal nomination
For a group of local Liberal pre-selectors in the Prime Minister's electorate, it appears to be no impediment that an aspirant for the top spot on a council ticket is a former bankrupt who previously pleaded guilty to fraud charges and is currently not working.
But what has got some Liberals riled up is doubts about the accuracy of Marie Simone's nomination form. On Thursday night, the party decides on pre-selections for the local government elections in September.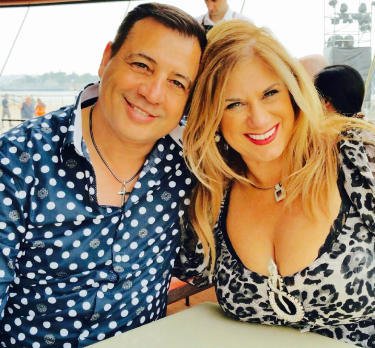 Property developer Rene Licata with his wife, Sutherland Shire councillor Marie Simone. Credit:Facebook
Ms Simone, 54, is a councillor on Sutherland Shire, a key Liberal party fundraiser as well as the president of the Caringbah Liberal Party branch.
In 2014 Mrs Simone, a former dress shop owner, received a good behaviour bond after pleading guilty to four charges of obtaining money by deception.
Firstly, Ms Simone states on her nomination form that she lives in a modest two-bedroom brick house in Cronulla. This is also the address that her property developer husband Rene Licata, also a former bankrupt, lists as his principal place of business for his companies.
In fact, it is Ms Simone's 84-yer-old mother who lives at this house which Mr Licata bought last year.
Her daughter and son-in-law appear to have bounced back from their financial troubles, having been discharged from their respective bankruptcies in 2015.
The couple is currently residing in a brand-new, four-bedroom townhouse with water views over Burraneer Bay. Their matching Maseratis – hers white, his black – with their personalised numberplates are parked in the driveway of their townhouse.
"It's so disgusting," said Ms Simone of her fellow Liberals, the "lunatics who go nuts" around pre-selection time. She explained that she splits her time between the two houses and she didn't want to nominate the townhouse as her residence as she and her husband were in the process of buying it.
And then there is the thorny issue on the declaration form regarding property development. Ms Simone has declared that for the past seven years she has not been engaged in any business involving property development.
However, corporate records show that as recently as 2018 she was a director and shareholder in her husband's company RL888, which is a major shareholder in property development company, the Manta Group, where her husband is the CEO.
Ms Simone claimed that although she ticked "no" on the nomination form, she had declared her former interest in her husband's company on a separate form and the "party knows all about it."
The email address given on her nomination form is a Manta Group email and Ms Simone posted on her Facebook page in February 2016: "We are very busy with Renes (sic) project at MIDDLETON GRANGE."
President of the Caringbah Liberal Party branch Marie Simone with her husband, property developer Rene Licata. Credit:Facebook
This was a reference to her husband's ambitious development for the town centre at Middleton Grange, in the Liverpool area. Despite the best efforts of his planner Matt Daniel, who like Mr Licata is a member of Ms Simone's branch of the party, Mr Licata's development plans have been thwarted by the local council.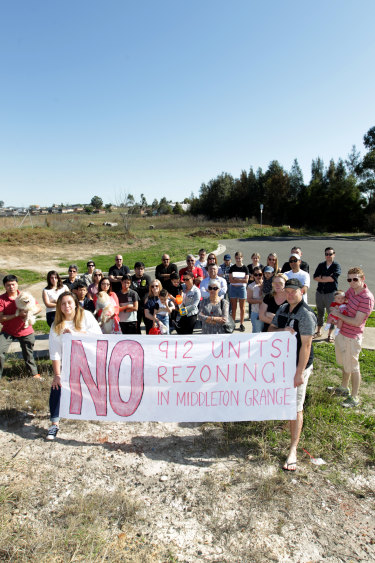 Middleton Grange residents opposed Manta's proposed development for 900 units to be built in the immediate area.Credit:Simon Bennett
However, the Liberals on Liverpool Council, where Mr Daniel was formerly the deputy general manager, remained supportive. In July 2019 they voted as a bloc to overturn the council's rejection of the Manta Group's plans. They were not successful.
In 2017 Mr Licata and Mr Daniel established the Commercial and Economic Planning Association which claims to represent the interests of smaller developers. According to CEPA's website, in September 2019 they charged $350 per head for members and guests to dine with the Prime Minister, Scott Morrison.
Mr Daniel, also a former bankrupt, has featured in back-to-back corruption inquiries. In April it was revealed that Mr Daniel's planning company was lobbying Canada Bay councillors for favourable rezonings on behalf of then Liberal MP John Sidoti.
He also featured in ICAC's investigations into questionable planning decisions made by Canterbury Council. Documents tendered at the inquiry show the pair were on the payroll of controversial property developer Charbel "Charlie" Demian who was lobbying the council and its planners for major expansions to his development sites.
The ICAC inquiry also showed that Mr Daniel was using the services of the now-disgraced former Liberal MP Daryl Maguire to help lobby planning officials and other ministers on behalf of Mr Daniel's clients.
Most Viewed in Politics
From our partners
Source: Read Full Article