The groundbreaking police show that started the TV revolution is missing in action
Save articles for later
Add articles to your saved list and come back to them any time.
For television historians amateur and professional, the easiest place to begin the story of the contemporary Golden Age of Television is on January 10, 1999, when Tony Soprano first paid a toll on the New Jersey Turnpike. But perhaps we might be better served to rewind the clock approximately six years, to January 31, 1993, the premiere of a new NBC drama, set in Baltimore, studying the work of the city's homicide detectives.
The series was called Homicide: Life on the Street, and it was based on a book by David Simon, then a Baltimore Sun reporter who had spent a year tagging along with the police department's homicide squad. Homicide was never a ratings success, but it stayed on the air for seven seasons, winning four Emmys and three Peabody Awards. The show was prickly, funny, morally forceful, endlessly discursive and filled with a murderers' row of actors, including future stars Andre Braugher (who won an Emmy for his performance as Frank Pembleton), Melissa Leo and Giancarlo Esposito, along with veterans like Ned Beatty, Yaphet Kotto and Richard Belzer, known primarily then as a stand-up comedian.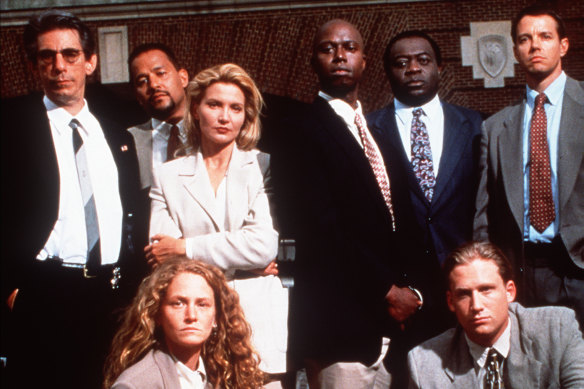 The cast of Homicide: Life on the Street, which first aired from 1993 to 1999, predating the so-called Golden Age of Television.
The show's sixth episode, Three Men and Adena, which first aired in March, was a stark, dramatic example of what made Homicide different from other cop shows. It takes place almost entirely within the confines of an interrogation room, with detectives Pembleton and Bayliss (Kyle Secor) attempting to wring a confession out of Risley Tucker (Moses Gunn), an itinerant fruit-and-vegetable man, after the murder of a little girl named Adena Watson. Pembleton and Bayliss prod, provoke and rage, but Homicide refuses to grant the audience the resolution they crave. Tucker doesn't crack. Adena's case is never solved. (The showrunner, Tom Fontana, won an Emmy for writing the episode.)
Thirty years later, Fontana, executive producers Barry Levinson and Paul Attanasio and actors Braugher and Secor reflected on Three Men and Adena, in particular, and on the broader legacy of the series and their frustration at its still not being available to stream. These are edited excerpts from conversations with them.
After Levinson, a Baltimore native known for setting films like Diner and Avalon in the city, read Simon's book, he knew he wanted to adapt it. But he thought TV would be a better venue. He hired Attanasio to create the series and write the pilot, and he eventually brought in Fontana to run the show.
TOM FONTANA: I said, "I'm not really sure I want to do a cop show." And Levinson said: "This is about the homicide detectives. They're thinking cops. There's no gunbattles, there's no car chases." And I said: "That's impossible. I'll do it."
BARRY LEVINSON: I thought it ought to be done completely in Baltimore. We can do it really down and dirty and lean. Instead of shooting 35-millimeter film, we'll shoot in Super 16 and with hand-held cameras.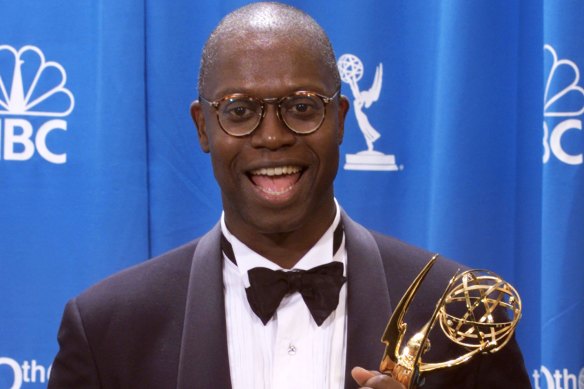 Andre Braugher, who played detective Frank Pembleton, receives an Emmy Award in 1998.Credit: Sam Mircovich/Reuters
FONTANA: I think I've read David's book more times than I've read any other book in my life. By the time we were done, we'd used everything in the book, including the commas and question marks.
PAUL ATTANASIO: I built Frank Pembleton out of the idea of a character who didn't want a partner. And then Kyle's character, Bayliss, was a more functional, more conventional television character who was the rookie, so you could use him as a guide to bring you into the show.
FONTANA: Our premiere was after the Super Bowl. NBC was very jazzed about that. I said to Barry: "After the Super Bowl, everybody's drunk! This isn't a show you can watch drunk."
ANDRE BRAUGHER: The first year, there was a sort of Jean-Luc Godard jump-cut sensibility that we enjoyed.
FONTANA: I said to Barry, "You know, I'd love to write an episode that basically only takes place in the interrogation room." And he said: "Let's just try it. Let's try everything."
KYLE SECOR: I went in and met them. Within a couple minutes, they said, "The sixth episode we're going to do, it's just going to be three guys in an interrogation room. It'll be you, your partner and this other character." And I went, "Oh, well, I'm in."
FONTANA: The real girl who was murdered in Baltimore, that the Adena Watson story was based on, her murder was never solved. I made a decision that we would never solve the murder on the show because we felt like it would be disrespectful to the family and to the young girl's memory.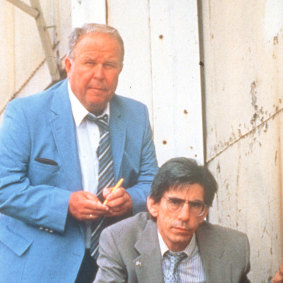 Ned Beatty and Richard Belzer, best known until then as a stand-up comedian, in a scene from Homicide.
SECOR: We had rehearsals before shooting, which was a comfort. Andre and I had spent a lot of time in that room, and it felt like that was our room. We had control of that room.
BRAUGHER: We performed it like a theatre piece. There's nowhere to go. It's a strangely shaped little room with a door and a window. So it's just three men going around and around and around again.
FONTANA: We are asking the audience to watch this hour of intense interrogation and then not give them the solution they were hoping for. That was satisfying for me as well, because I didn't want it to be all neat and tidy at the end.
'By the time we were done, we'd used everything in the book, including the commas and question marks.'
ATTANASIO: I think what's really brilliant about that script is, it's one thing to say you're not to give the audience what they're looking for. But then the question is, what are you going to give them? And what Tom gave them was heartbreak. And irresolution.
FONTANA: I knew the rhythms of Andre and Secor. And I knew that it had to have twists and turns, and that eventually, Tucker would start indicting them. I knew going in that was the way it would travel.
ATTANASIO: It's not just good like bran cereal is good for you. It's electrifying. You can't take your eyes off it. And all it is, is three actors in a room.
BRAUGHER: It's the most fun I've had filming an episode. It was physically hard, it was emotionally taxing, but it was very satisfying.
At the end of the episode, Bayliss takes the photograph of Adena from the interrogation room and places it on his desk, where it remains for multiple seasons.
SECOR: When I met Tom Pellegrini, who was the detective that I was based on, I got Bayliss immediately as someone where being unable to solve this case affected his entire life. Affected his marriage, affected relationships, affected his job, affected how he saw his work, everything.
FONTANA: If you're going to track a character over the life of a series, you need to see the stuff that he or she accumulates. There was an episode where he puts the picture in a drawer. He was sort of like, "I have to get past this now."
BRAUGHER: That's one of the beautiful things about the episode. It doesn't resolve in favour of our heroes. The moral frustration in the entire series is that Adena Watson's murder is never solved.
FONTANA: My career has been an endless number of shows that I'm proud of that never were in the Top 10, starting with St. Elsewhere.
ATTANASIO: Don Ohlmeyer (then NBC's West Coast president) loved the show, as long as they could make it for a reasonable amount of money.
BRAUGHER: When I think back to that initial group, that first- and second-year group, it was a wonderful cast and boy, were we quirky. Boy, were we misfits, and I loved it.
LEVINSON: For the last four years, I've tried to get an answer for why we're not on streaming. No one, I mean no one, has been able to give me an answer. There's money to be made. You can't figure out how to handle whatever rights issues that may come up? You're talking over 120-some[thing] episodes. And somehow no one can figure out how to handle the rights? That doesn't make sense!
SECOR: Who knows? Maybe we'll start streaming on Netflix!
This article originally appeared in The New York Times.
This article originally appeared in The New York Times.
Find out the next TV, streaming series and movies to add to your must-sees. Get The Watchlist delivered every Thursday.
Most Viewed in Culture
From our partners
Source: Read Full Article