What Robert De Niro's lawsuit reveals about the world of celeb assistants
Save articles for later
Add articles to your saved list and come back to them any time.
For the past week, Oscar winner Robert De Niro and his former personal assistant have been locked in a court battle in what could become one of the most revealing celebrity legal disputes to date.
The 80-year-old De Niro and his company Canal Productions have sued Graham Chase Robinson over alleged improper spending during her employment as his assistant. Meanwhile, Robinson has counter-sued De Niro and his company, alleging gender discrimination and retaliation.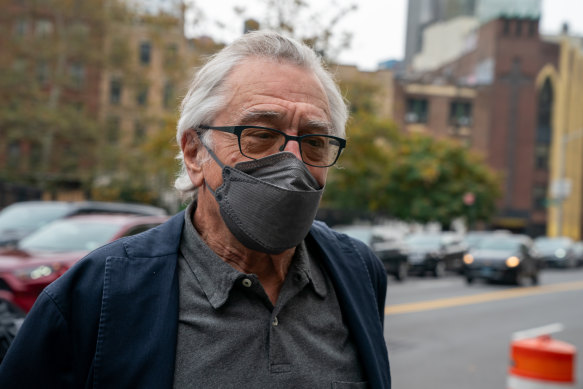 The case between Robert De Niro and his former assistant could illuminate the gruelling reality of being a celebrity assistant.Credit: David Dee Delgado/Getty Images
The court battle, which will continue this week, has so far seen De Niro spend six hours on the stand. He called his former assistant's claims nonsense and burst out, "Shame on you, Chase Robinson". But beyond the dramatics, the case has also revealed details about a world hitherto largely concealed from public knowledge: the inner workings of celebrities and their assistants.
From hours worked to wild expectations, what is life like for those who cater to the world's most rich and famous?
What is Robert De Niro alleging?
De Niro and his company sued his former assistant in August 2019 – shortly after she resigned from her post – for breach of loyalty and fiduciary duty (which includes duty of care, loyalty and confidentiality), seeking US$6 million. The actor also claims she improperly transferred more than US$450,000 in airline miles to her personal account – an amount he said exceeded that which he initially agreed upon.
Specific allegations included spending tens of thousands of dollars of company money on food – including over US$12,600 at one Manhattan restaurant – and car services, including about US$32,000 in Uber and taxi rides, over about two years.
The lawsuit also accused Robinson of "loafing around" and binge-watching Netflix shows during working hours; however, this claim has not yet been brought up in court.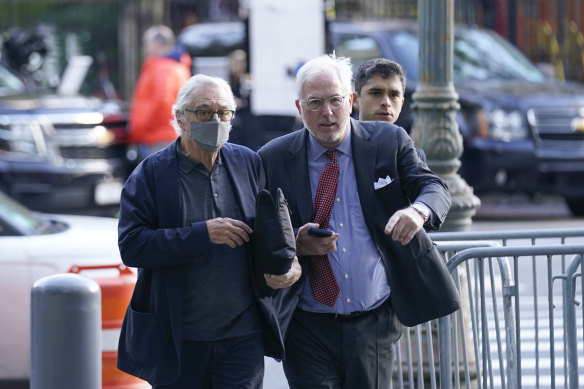 Robert De Niro at Manhattan federal court.Credit: AP/Seth Wenig
What is Graham Chase Robinson alleging?
Robinson, 41, became De Niro's executive assistant in 2008. She was promoted to director of production in 2011 and became vice president of production and finance in 2017. However, Robinson resigned in 2019 and counter-sued De Niro and his company, claiming she'd been subjected to years of abusive behaviour. She's seeking US$12 million in damages.
"He attacked her in gender terms, calling her a 'bitch' and a 'brat'," Robinson's lawsuit, which she filed in October 2019, alleged. "De Niro would unleash tirades against Ms. Robinson — often while he was intoxicated — in which he denigrated, berated, bullied, and hurled expletives at her."
De Niro allegedly made jokes about his Viagra prescription, suggested Robinson ask her married male colleague to be her sperm donor, and would call her while using the toilet. The lawsuit also alleged De Niro had subjected Robinson to "gratuitous unwanted physical contact" and made sexually charged comments around her.
"He treated Ms. Robinson as his 'office wife', assigned her stereotypically female duties like housework, and insisted that she be available to him around the clock," the lawsuit stated. "He underpaid her because she was not a male breadwinner and denied her overtime pay even though she worked punishingly long hours."
Some of the "stereotypically female duties" allegedly assigned to her were scratching his back, buttoning his shirts, fixing his collar and prodding him awake when he was in bed. Robinson also claimed De Niro's current girlfriend, Tiffany Chen, participated in her mistreatment.
In Robinson's lawsuit, she claimed De Niro's suit, filed a few months before her complaint, was "retaliation", or a preventative measure to stop her from pursuing her own claims.
How has each party responded?
While testifying last week, Robinson said some of the expenses De Niro and his company had accused her of making were for other employees or De Niro himself. She also claimed she'd negotiated certain expense bonuses with her boss, such as a per diem for food and payment for taxis while on call.
De Niro and Canal Productions have also denied the allegations against them, arguing that Robinson was not discriminated against based on gender. In court, they noted that the one employee – who is male – that earned more than her had been working for De Niro as his personal trainer for significantly longer than Robinson.
Though De Niro admitted to berating Robinson after she failed to wake him up for an important appointment, and said he may have called her a "spoiled brat", he emphasised he was never abusive. He also acknowledged that he may have asked her to scratch his back once or twice, but said it was never sexually charged or disrespectful.
The trial will continue until November 10.
What does the trial reveal about celebrity assistants?
The detailed and dramatic nature of the case has illuminated a role that's largely played out behind closed doors: the role of the celebrity assistant. However, there is a risk that privacy and unclear work boundaries can potentially foster a toxic environment.
During the trial, De Niro admitted there were no written boundaries or rules around the duties and allowances of his employees. He instead relies on "the rules of common sense" and an "honour code system".
Such lack of clarity around duties and payment has reared its head before. In 2013, Sharon Stone was sued by her former housekeeper, who claimed she was unlawfully fired after injuring herself by loading heavy groceries into Stone's car. Mariah Carey was also sued by her former nanny in 2019, who claimed she had not received proper wage statements. Kim Kardashian was sued by staff for similar reasons in 2021.
Robinson claims she was on call, meaning she had to be available for De Niro 24/7, since she began the job in 2008. According to the lawsuit, Robinson typically worked between 7am and 8pm on weekdays, working through breakfast, lunch, and dinner. She also allegedly often worked during weekends, accruing approximately 20 to 30 hours of overtime per week without receiving overtime pay. This work included things she argued shouldn't have been part of her role, such as housekeeping, as well as tasks such as scratching her boss' back.
Notably, Robinson made US$300,000 a year by the time she resigned – a significant amount of money for an assistant, considering Vogue editor, Anna Wintour, recently advertised for an assistant position paying up to US$80,000.
Regardless of the current trial's outcome, it has already raised questions around the treatment, payment and expectations set upon those who shadow some of the world's most powerful people.
Find out the next TV, streaming series and movies to add to your must-sees. Get The Watchlist delivered every Thursday.
Most Viewed in Culture
From our partners
Source: Read Full Article