What's better: Online parent-teacher interviews or in-person ones?
Save articles for later
Add articles to your saved list and come back to them any time.
Gone are the days of having to manage an early work knock-off or a sitter for a sibling while you meet your child's teachers. A quick click and you're into a Teams or Google Meet, touching base about how your child is tracking.
But as much as virtual meeting rooms take a lot of the logistics out of parent-teacher interviews, are the interactions as fruitful as the traditional way?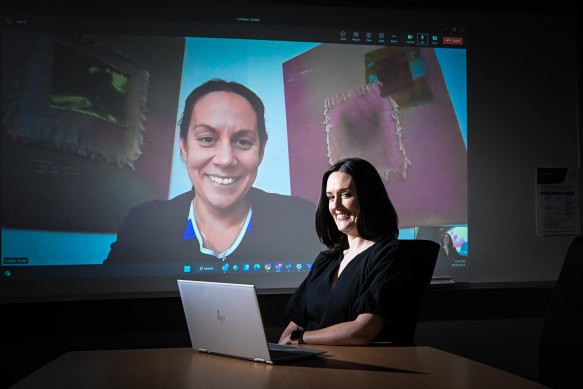 Emma McDonald, deputy head and head of senior school, at St Michael's Grammar, speaking with a parent.Credit: Justin McManus
Secondary maths teacher Nural Seker, who does a combination of in-person and online parent interviews, believes that even with the occasional tech glitch, online comes up trumps.
"We've found that a lot of parents will attend interviews who previously couldn't," says the founder of teacher training program Learn What Can't Be Taught.
"They're dialling in from work or home or even from overseas – the fact we're able to be flexible is a positive that came out of COVID."
While some schools offer parents a choice of in-person and online catch-ups, others, like St Michael's Grammar School, have moved to exclusively online interviews for secondary-age students.
"It's convenient for parents and teachers, and it's a little bit more private than being in a big hall with 500 other people," says Emma McDonald, St Michael's deputy head and head of senior school.
"It's also a bit less chaotic, especially for parents who have multiple children at a school and might be trying to see 15 teachers in one session – rather than running all over the school, you can just log in from home."
But, as with many screen interactions, body language cues may be muted in digital catch-ups.
"You can miss some of the little innuendos or slight raise of an eyebrow that you might pick up on person," Seker says.
Some teachers and parents also lament the loss of collegiality that comes with the incidental chats between parents and other teachers, but McDonald says there are other opportunities for schools to build culture.
"As long as you're providing families with other opportunities to come in and connect with the school face-to-face, then I think that's okay," she says.
Doug Taylor, CEO of The Smith Family, hopes schools will keep offering both, so families taking on extra work shifts can manage an online meeting, or those without appropriate devices or internet connection can still meet teachers.
"One in six students [in our education sponsorship program] don't have a reliable device or internet access at home, which shows the scale of this digital divide," he says.
"There's also the issue of digital literacy amongst parents and carers experiencing disadvantage, with many finding it hard to navigate school portals or online video calls even if they are connected."
How to enhance your parent-teacher interview
Whether you're doing parent-teacher interviews online or in person, Derek McCormack, director of the Raising Children Network, suggests speaking with your child first to get their insights.
"Before the interview, let them know that you're meeting with the teacher and why, then lead with some open questions [such as] 'How do you think you're going? What subjects are you enjoying?'" he says.
McDonald suggests checking any data or school reports in advance too.
"The conversation is really getting the three parties together – the parent, the student, the teacher – to [discuss] how are they feeling about their learning progress? Are they aligned?" she says.
"There shouldn't be any surprises. You're talking about a five or 10-minute meeting, [which is] not the time for the parent or the teacher to be raising new significant learning or behavioural issues – that's a conversation that needs more time and more care and should happen outside of the short parent-teacher interview window."
If you're tackling a difficult topic or challenge for your child, McCormack says all parties will benefit from a positive, open-minded approach. "It's always about problem-solving and seeing the chat as two people on a team, thinking about what we could do next," he says.
"When raising a concern or asking for help, it's often good to start with what tends to help [your child] – it might be, 'My child tends to do well with this but not so well with this. What do you think we could do to help with this issue?'"
Seker hopes parents and students also remember many teachers are facing their own challenges, just like their students.
"Like anyone who worked through the pandemic, a lot of teachers are doing it tough at the moment. So I think [it's good to use] a little bit of respect and courtesy," she says.
"Teachers do have the best interests of your child at heart – they want to see them progress and want to see them learn."
Make the most of your health, relationships, fitness and nutrition with our Live Well newsletter. Get it in your inbox every Monday.
Most Viewed in Lifestyle
From our partners
Source: Read Full Article