You can't script it: The triathlete who became an unlikely Oscar nominee
Key points
All Quiet On The Western Front is up for nine Academy Awards including best picture on March 13 AEDT.
While it's a German-language film directed by Berlin-based Edward Berger, it originated when Scottish professional triathlete Lesley Paterson teamed up with writing partner Ian Stokell to buy the rights to the classic German novel in 2006.
Struggling to attract interest in their script, they were only able to retain the rights in 2016 when Paterson won a triathlon in Costa Rica with a broken shoulder. 
It took 16 years before Berger agreed to direct the film and Netflix Europe backed it. 
Paterson, Stokell and Berger are among the favourites to win best adapted screenplay. 
In amongst all the famous faces at the Academy Awards next week – Spielberg, Blanchett, Cruise, Luhrmann, Rihanna and the rest – will be a self-described "wee Scottish lassie from a small town" who has to be the most unlikely nominee in the theatre.
Lesley Paterson is a five-time world champion triathlete who decided way back in 2006 that she wanted to turn a German novel she fell in love with in high school, Erich Maria Remarque's All Quiet On The Western Front, into a film.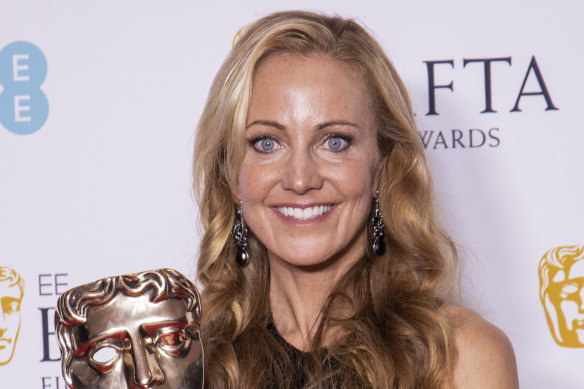 Lesley Paterson, winner of the best film award for 'All Quiet on the Western Front' at the BAFTA Awards in London last month.Credit:Vianney Le Caer/Invision/AP
She and her English writing partner Ian Stokell were surprised the rights were available so they bought them.
But it took 16 years of setbacks, starting with being told their first attempt at a script was "worse than horrible", before a film was finally made.
And made so successfully that it has been nominated for nine Oscars including best picture. Paterson, Stokell and Edward Berger, who wrote a final draft in German and directed the film, are among the favourites to win best adapted screenplay.
Her unlikely success – a BAFTA last month and an Oscar nomination for her first script plus an executive producer credit on Netflix's big hope at the awards – came after an extreme test of her commitment.
Needing a "five digit" sum to renew the rights in 2016, Paterson decided the only way she could earn it in time was to win a triathlon in Costa Rica.
But riding the course the day before the race, she broke her shoulder in a bike crash.
Paterson, 42, was so determined to make the payment that she swam 1.6 kilometres one-armed – getting out of the water dead last, 12 minutes behind the leader.
Despite having to walk down the jungle descents, she rode her way into second on the 40 kilometre bike leg. Then, in dizzying pain in 40 degree heat, she overtook the leader late on the 10 kilometre run to win.
"It was just one of those moments in life where you realise you have to keep going and figure out a way to get it done," Paterson says on Zoom from California. "I couldn't lift up the trophy. I was just in agony."
The novel was previously adapted into a film that won best production and director at the Oscars in 1930.
Paterson says she was moved in high school by its theme of the betrayal of a youthful generation.
"Growing up in Scotland there's that underdog mentality," she says. "That's a real leftie, everyman ethos in our culture, where the upper brass, we don't like them calling the shots. I could really relate to that and then I was so fascinated by it being told from the other side – that German perspective."
"My biggest mantra in life, and this is why I've been successful in sport, is I focus on mastery of craft": Professional triathlete turned Oscar-nominated screenwriter Lesley Paterson.Credit:lesleypaterson.com
But no-one in the US, where Paterson lives her with psychology professor husband Simon Marshall, wanted to back a World War I film about German soldiers.
"It was a nightmare," she says. "We went to a bunch of German directors. They all turned us down because they were scared of the material – remaking a classic.
"We got various casts on board. Then they came off. We got various finance on board. They came off. We had one producer that went to jail and almost took our rights with him. We just had so many 'nos'."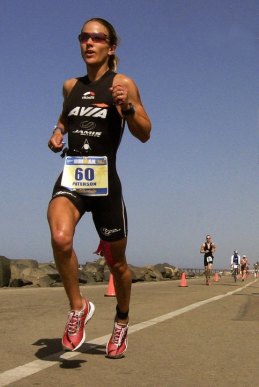 Lesley Paterson as professional triathlete.Credit:lesleypaterson.com
Eventually, after an estimated 2,000 emails and phone calls, a British contact forwarded the script to German producer Malte Grunert (A Most Wanted Man) who was also a big fan of the book but had never considered adapting it for the screen.
He saw the potential for a new film and recruited Berger. Netflix Europe came on board and they shot it in the Czech Republic.
Paterson describes the response to All Quiet as unbelievable.
"It's all very surreal but at the same time we've busted our butts to get here and gone through a lot of adversity," she says.
She believes the support for the film initially came largely through word of mouth on Netflix then turned into awards recognition "when people see the true heart behind it, like how hard it's been to get off the ground, what it means to Germany and the craft involved".
Paterson, who has trained in Queensland and raced in Western Australia as a professional triathlete, says Gallipoli, Saving Private Ryan and Apocalypse Now were among the films they turned to when they were stuck writing the script.
"My biggest mantra in life, and this is why I've been successful in sport, is I focus on mastery of craft," she says. "That's where I find the pure joy: being the best I can be in every moment.
"It's the same in screenwriting, in filmmaking, in producing. Truly being immersed in every aspect of it, that's my joy."
A cultural guide to going out and loving your city. Sign up to our Culture Fix newsletter here.
Email Garry Maddox at [email protected] and follow him on Twitter at @gmaddox.
Most Viewed in Culture
From our partners
Source: Read Full Article