Have Amy Robach and T.J. Holmes officially left GMA3? – what we know
Amy Robach and T.J. Holmes still haven't returned to their hosting seats on GMA3 – but will it ever happen?
The TV presenters have been noticeably absent from the show since their extra-marital relationship was revealed at the end of November. Now, fans are wondering if they've officially left ABC's GMA3 for good.
DeMarco Morgan and Rhiannon Ally have been a sure-fire hit since replacing the couple alongside Dr. Jennifer Ashton.
WATCH: Amy Robach and Andrew Shue's awkward interview with T.J. Holmes ahead of affair revelation
They certainly appear comfortable in their positions, but every morning they still face the camera and say they are "sitting in for T.J Holmes and Amy Robach".
It has been reported by multiple outlets that both Amy and T.J. have hired attorneys to represent them as they fight their suspension.
TRENDING NOW: Today's Dylan Dreyer shares exciting plans with husband – and it's a change to their family dynamic
ALSO POPULAR: Kelly Ripa's son Joaquin moved out of $27million townhouse – where does he live now?
People reported that it is unlikely the duo will return but that they have not been terminated.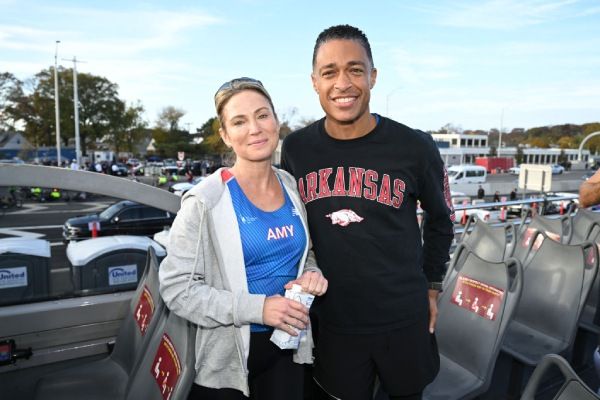 Both Amy and T.J. have reportedly hired attorneys over their ABC suspension
At the time of their hiatus, ABC News President Kim Goodwin announced the company's decision and said it wasn't an easy choice to make.
Kim confirmed that the two hosts would be taken off air while they figure out the next stages – and it appears they are still navigating the situation and working on the investigation.
POPULAR: T.J. Holmes' estranged wife supported by GMA stars after emotional message
While there is not believed to be grounds for them to be fired, the longer they are away from the show, the more questions are raised about if they'll ever come back.
A post shared by Rhiannon Ally (@rhiannonally)
Rhiannon Ally and DeMarco Morgan are standing in for Amy and T.J.
Their relationship appears to be going from strength to strength, however. They've been spotted on numerous occasions and T.J. filed for divorce from his wife on 28 December.
Amy was photographed meeting her husband, Andrew Shue, for the first time in public recently, to hand over their pet pooch.
It is not known if they have filed for divorce yet.
Source: Read Full Article