Flattery for 'handsome boy' Albanese as China, Australia strike new deal
Save articles for later
Add articles to your saved list and come back to them any time.
Beijing: Australia will tighten its economic ties with China in a bid to expand billions of dollars in trade, with a formal agreement struck on Tuesday to free up visa rules, work together on climate change and hold annual leadership talks.
At the end of his four-day visit to Beijing and Shanghai, Prime Minister Anthony Albanese emerged from a meeting with Chinese Premier Li Qiang to release a new deal that ends years of tensions.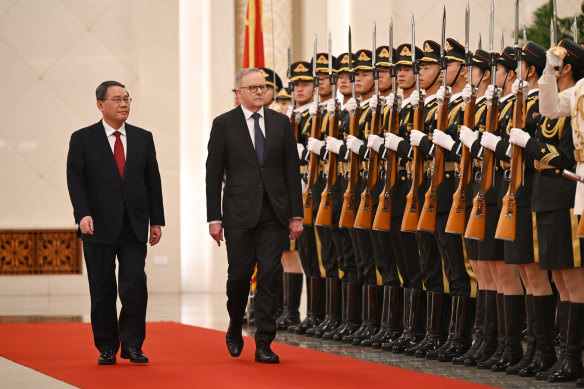 Prime Minister Anthony Albanese, with Chinese Premier Li Qiang, arrives to a ceremonial welcome at the Great Hall of the People in Beijing.Credit: AAP
The day included surprise praise for the prime minister as a "handsome boy" in a remark from Li about a video of Albanese that went viral on Chinese social media.
The joint statement distributed after the meeting also confirms Australian support for the One China policy, a fundamental feature of the relationship because it recognises mainland China rather than Taiwan as the Chinese state.
The Chinese government hailed the Australian visit this week as a "new starting point" in the relationship, confirming this by saying Li will hold talks each year with Albanese.
"Both sides welcomed the successful recommencement of the Annual Leaders' Meeting between Premier Li and Prime Minister Albanese," its statement said.
Travel between the two nations will open up under visas that last for three to five years, with both sides to work on the details.
"The facilitation of exchanges, including the agreement to provide access to three to five year multi-entry visas for visitors and business people on a reciprocal basis," the agreement says.
Australia is seeking to rebuild a tourism business worth $12.4 billion a year by restoring annual Chinese visitor numbers to 1.4 million a year – the number before the pandemic.
The annual leaders' meetings were cancelled by China under the former Coalition government after multiple disputes with Australia over human rights, national security, COVID and the cancellation of Victoria's Belt and Road infrastructure agreement.
Li held the formal talks with Albanese and hosted the prime minister at a banquet in the Great Hall of the People after the two leaders watched a ceremonial welcome and inspected an honour guard.
The Australian delegation has been buoyed by a series of positive meetings, including talks with Chinese President Xi Jinping on Monday night.
Li described Albanese as an "old friend" after meeting the prime minister three times in the past year. The overall tone of the visit is a major shift from years of diplomatic threats by Beijing in an attempt to get Australia to change its policies on national security and human rights.
In a light-hearted remark at the beginning of the meeting, Li said many Chinese people had seen social media posts about Albanese visiting China.
"I see on social media of China that there are many sharing short videos about your trip to China, including your speech, including a video of you running along the Huangpu River with a yellow jersey," Li said of the footage of Albanese wearing a Matildas football jersey on the historic Bund in Shanghai on Sunday.
"People were saying that we have a handsome boy coming from Australia," he said. Asked later about the flattery, Albanese said he would "let that one go through to the keeper".
Albanese has moderated the government's rhetoric towards Beijing but largely maintained the government's foreign policy position. "Australia will hold firm to our interests and values, as all countries do," he said.
He raised human rights issues with Chinese officials during his four-day visit, as well as the detention of Australian writer Yang Hengjun.
Prime Minister Anthony Albanese and Foreign Minister Penny Wong on a tour of the Temple of Heaven.Credit: Eryk Bagshaw
Albanese was joined by Foreign Minister Penny Wong, who heads to Tokyo on Wednesday for talks while the prime minister flies to the Cook Islands for the Pacific Islands Forum.
The written agreement on political dialogue says Australia and China will hold a foreign and strategic dialogue and an economic dialogue as well as a joint ministerial economic commission, bringing ministers together across a range of portfolios.
There will also be "joint commission" meetings in Australia on the China-Australia Free Trade Agreement, a key pact drawn up in 2014 but undermined by Chinese barriers to Australian exports worth $20 billion a year after borders closed in 2020.
Despite those problems, trade between the two countries has grown from $151 billion in 2015 to $299 billion in 2022, partly due to a large increase in resource prices.
The Australian delegation emerged from the talks with confidence that China would remove restrictions on wine, lobsters and beef, after scaling back earlier curbs on barley, timber, coal and other products.
On climate change, the agreement says the two countries will restart their talks on energy and launch technical cooperation on climate issues such as soil carbon testing and agriculture.
Coalition foreign affairs spokesman Simon Birmingham welcomed the dialogue with Beijing but expressed caution over China's ties to Russia, Beijing's flouting of intellectual property rules and concerns inside Australia's security agencies about China's use of cyberattacks.
The front page of Chinese newspaper, the Global Times.Credit: David Crowe
"These are all reminders of why real caution is needed, as well as the many unresolved aspects of the bilateral tensions in the relationship," he said.
Chen Hong, a professor of Australian Studies at East China Normal University, said both sides wanted to avoid provoking each other.
"Albanese and his foreign minister, Penny Wong, always say that when dealing with Australia's relationship with China, they will co-operate where we can and disagree where we must," he told Chinese state media on Monday. "I think China holds exactly the same principle."
Albanese's visit dominated Chinese and English-language state media on Tuesday, signalling a broader shift in sentiment towards Australia that could see more Australian businesses enter the world's largest consumer market.
Li acknowledged the Australian and Chinese media in the room. "I hope our journalists will give objective and fair reports on each other's country to promote mutual understanding and friendship between the two peoples," he said.
China has blocked visas for permanent Australian foreign correspondents for more than three years.
Cut through the noise of federal politics with news, views and expert analysis from Jacqueline Maley. Subscribers can sign up to our weekly Inside Politics newsletter here.
Most Viewed in Politics
From our partners
Source: Read Full Article