Thousands of renters unable to access legal help to fight evictions and rent increases
Save articles for later
Add articles to your saved list and come back to them any time.
Up to two-thirds of renters seeking legal assistance for eviction notices, rental increases, bond disputes and repairs are being turned away by overextended tenancy support services amid Victoria's housing and cost-of-living crisis.
The leaders of community legal centres in Melbourne and the regions say the situation is the worst they've ever seen and are calling on Premier Jacinta Allan for an urgent cash injection that goes beyond what was announced in the housing statement to meet rising demand.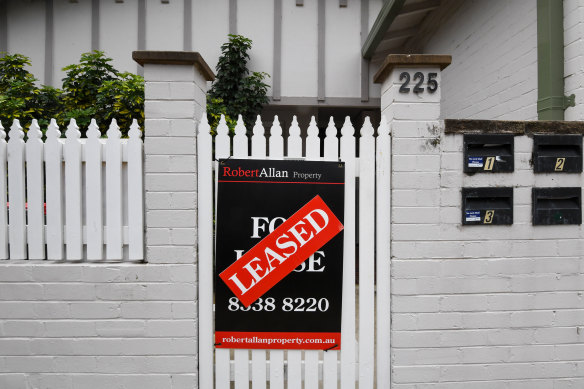 Consumer Affairs Victoria says it received more than 5400 requests to review rent increases last financial year.Credit: Peter Rae
Without more funding, tenancy support services fear thousands of Victorians are at risk of homelessness or living with malnourishment by copping a rent increase they can't afford.
The request comes just days after the release of more than 240 state government reports showed the Department of Families, Fairness and Housing missed its target of providing 10,000 low-income Victorians with bonds for the private rental market by 30 per cent in the 12 months to July – the equivalent of 3000 people.
As part of the data dump, Consumer Affairs Victoria also confirmed it had received more than 5400 requests to review rent increases last financial year.
This represents a more than 120 per cent spike compared to 2021-22 when there were 2452 requests for a second opinion. In 2020-21, there were just 752.
Tenants Victoria chief executive Jennifer Beveridge said her organisation, which receives state government funding, can only respond to 30 per cent of the more than 20,000 calls and emails it receives each year.
"We're unable to keep up with the demand," Beveridge said. "Investment needs to be commensurate with need."
As part of its long-awaited housing reforms, announced in September, the state government unveiled an extra $2 million for community organisations that assist renters in serious distress. But Beveridge said it was now clear more money was needed for community lawyers across the state.
"If you divide $2 million by 680,000 renting households, you get less than $3 per household. That will buy you two bread rolls," she said.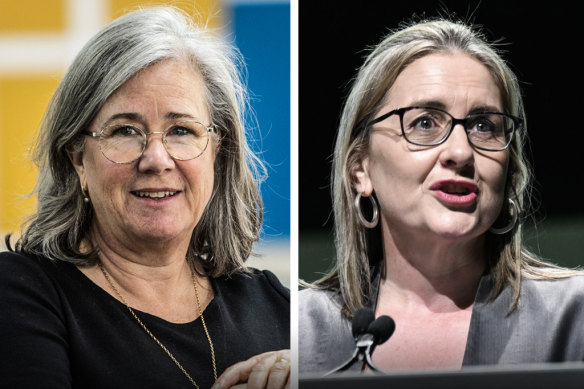 Tenants Victoria chief executive Jennifer Beveridge and Premier Jacinta Allan. Credit: The Age
"The thing about our funding is it's predicated on the old-fashioned premise that renting is a stage you move through from living at home with your family to buying your own house. Now, we know that many people will rent for all of their lives. Or they may come back to renting later in life."
ARC Justice chief executive Damian Stock, whose organisation provides tenancy support to people from Bendigo to Shepparton, said he had a team of about five people responsible for 13 local government areas.
"That's woefully insufficient," he said, adding his staff had witnessed a more than 100 per cent increase in demand for services since June 2020. "It means we have to help those most acutely disadvantaged. The $2 million announced in the housing statement is simply not enough."
Stock said that the regional rental market was already strained before the influx of COVID-19 tree-changers and the October 2022 floods.
"Now, it's next to impossible to find rental accommodation. It's the worst we've ever seen," he said.
Peninsula Community Legal Centre chief executive Jackie Galloway agreed, saying she had observed a 30 per cent increase in renters needing assistance for possible eviction in Melbourne's bayside and southern regions over the past six months.
"It's incredibly tough out there," she said. "We are desperately needing an increase in resources."
The executive director of Catholic Social Services Victoria, Josh Lourensz, said he was hearing about charities having to turn people away because of a lack of funds, staff or both.
"These are families with children," he said. "That's the most heartbreaking."
The opposition's housing spokesman Richard Riordan said Labor had not stemmed the tide on homelessness and the housing crisis after billions of dollars and almost a decade in office.
"The statistics are terrible," Riordan said. "It's an incredible level of incompetence. The most vulnerable are paying the price."
A Victorian government spokesperson said the recent housing statement flagged the creation of a portable bond scheme as well as the establishment of a new body called Rental Dispute Resolution Victoria.
"Separately, the government invests more than $25 million every year to help at-risk households stay in private rental accommodation," they said.
The Age revealed last week that renters and landlords are now waiting an average 50 weeks for their disputes to be dealt with by the Victorian Civil and Administrative Tribunal. Separately, financial counsellors have warned their waiting lists have blown out to three months amid rising interest rates, soaring energy prices and higher grocery bills.
The Morning Edition newsletter is our guide to the day's most important and interesting stories, analysis and insights. Sign up here.
Most Viewed in Politics
From our partners
Source: Read Full Article